Key Club organizes annual 4C's food drive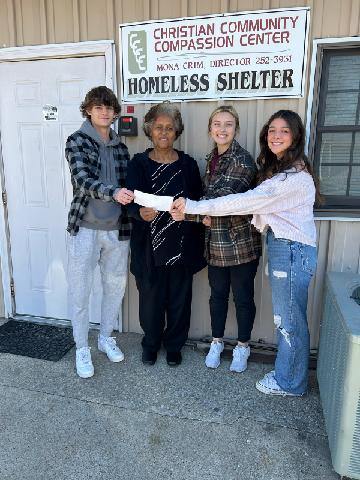 Key Club is doing their annual service project of helping donate to the 4Cs food drive, and they have a new option for club members to sell "pumpkins." This is the first year there has been a non-donation way to participate in Key Club's food drive fundraiser. 
 Members had the option of donating 10 items or selling five "pumpkins" for $1 Each.    Items that were donated were nonperishable items such as canned fruits or vegetables, and peanut butter. The "pumkins' are flyers that will have the person's name written on them and will be hung up in the rotunda area by the gyms. 
"We decided to have two ways to participate in the food drive this year because we figured it would be nice to donate money for the 4C's to purchase whatever they need that isn't a nonperishable food item, while still donating nonperishable food items at the same time," Key Club president Sofie Brombaugh said. "Plus, it allows members to choose which way they want to give back to the community, and selling pumpkins gives people outside of Key Club a chance to help out as well."  
Members of Key Club are happy that there is a new option in donating, and most members began selling pumpkins to whomever they could. History teacher Mrs. DeNeal bought at least ten pumpkins from Key Club members. 
"I sold five pumpkins to (History teacher Marj) DeNeal, and five pumpkins to (science teacher Jeanna) Herring. I am happy to see my teachers supporting Key Club, and hope that this support continues throughout the year," senior representative Emma Myers said. 
Other members are also happy about the new way to participate in the food drive. The option of selling pumpkins allows for even more donations to the 4C's.
"I like that we had the option to sell pumpkins as well as donate supplies to the food drive," senior club member Michele Johnson said. "I have only sold ten pumpkins so far but I plan on selling more, I want to get more donations for the pantry."