Soccer team moves into postseason with winning record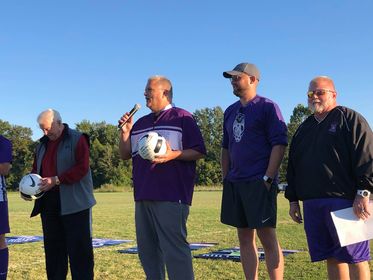 This year's Bulldog soccer team ended their season with a record of 11-8-2. The boys team has been on the field striving for improvement every chance they have.
"I feel like since last year we have come together and shown improvement," senior Jesus Aboyte.
The soccer boys have strong friendships with each other off the field as well.
"What sets us apart from teams or even other teams is how close each and every player is with one another," junior Grant Wilson said. "Our team's chemistry is above average because we are a team on and off the field. That helps us predict or already know what (a teammate is) going to do once they receive the ball. On the regular weekend, you can find most of the boys together hanging out or at the field together.
As a senior, Aboyte is happy to be ending his high school career with a winning record.
"I am very happy with the overall outcome of the season. The team puts in effort in everything they do on the field," Aboyte said.
Earlier this year, the team gifted Dr. Roger Herrin and Superintendent Mike Gauch with a signed soccer balls for their support of the team, but support of the team also extends to players who have graduated, a trait Aboyte plans to share.