Students join with Wreaths Across America to honor vets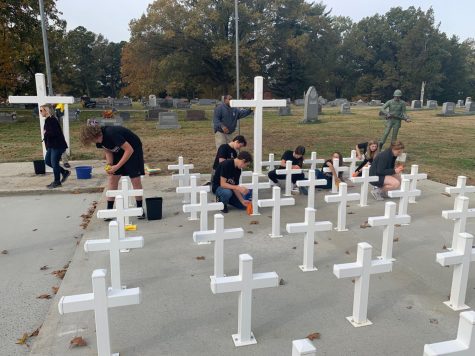 Wreaths Across Southern Illinois, a local branch of Wreaths Across America has teamed up with several local organizations and HHS students to honor those from the Harrisburg area who served in the military and are buried in Sunset Lawn and Sunset Gardens. 
This is also the site of Harrisburg's Little Arlington.
Key Club and White Hats will both be participating in the wreath laying ceremony, along with donating to the organization.
Key Club pledged $300 to purchase wreaths, and White Hats pledged $300 plus donations equalling $475.
Wreaths Across America is a non-profit organization that serves all across the country. The organization was formed after a photo blew up of wreaths being laid in Arlington National Cemetery in Washington D.C. 
According to their website, their main goals are to "Remember our fallen U.S soldiers, (and) honor those who serve and teach our children the value of freedom."
This year is the first that Harrisburg will be participating in the wreath-laying ceremonies to honor veterans. Location coordinator Kristy Wissinger was inspired to get involved by her veteran father, who is buried in a Harrisburg cemetery.
"The two locations that Wreaths Across Southern Illinois focuses on are Harrisburg and Mt. Vernon," said Wissinger. "Harrisburg was my main priority because that's where my dad is buried."
Along with being a first for the community in general, this event is a first for HHS's service clubs, White Hats and Key Club.
"We (the teachers) got an email asking for help and letting us know this was going on," said Key Club adviser Cathy Wall. "Mrs. (Janet) Hughes and I thought it was a good idea and took it to the Key Club board of directors who enthusiastically agreed to become part of the project, especially since White Hats had already committed."
White Hats secretary and Key Club vice-president Sofie Brombaugh feels that it is the duty of clubs like the ones to which she belongs to participate in events that show honor to those who have served.
"They sacrificed to keep us safe," Brombaugh said. "There are many things our community can do to help honor them. This is just the start. I would encourage everyone that is capable to come out and join us on the 18th."
The clubs also hope that this event will spread some joy this holiday season.
"The community will appreciate the beauty of the graves as a show of respect to those who died for our country," said White Hats adviser Heather Mandrell.
This event has the added potential of promoting unity and working together. Key Club president Mollie Freed thinks this is what makes it a great service project idea.
"I believe it is a good idea for our club to do this," Freed said. "It will make our cemetery look better for the holidays, however, the most important thing is that it will bring our community together."